Emojis are an important aspect of our digital lives as they cover almost half or sometimes full of our conversations. Being an aid for faceless communications, they provide an alter-face to convey feelings, emotions, intentions, expressions, and much more. Their importance can be estimated through the fact that all platforms and devices provide emojis, not to mention, the online facility to download more. No doubt, the famous or most used ones around the globe remain the same. However, a unique variety of emojis are available on each device including the ones available on all but appear different on each device. Of all the devices Android users always dominate, so do you know what type of emojis are available on Android? No? The list of emojis on Android is long but let me introduce you to as many Android emojis as possible.
List of emojis available on Android:
There is quite a variation in emojis on android with each type of emoji available in multiple colors. However, I will show you the basic ones of each category.
1. Smileys:
Smileys are the most used emojis featured almost everywhere as yellow circle-shaped faces available in innumerable animated expressions. They can be seen as laughing, thinking, weeping, feeling loved, blessed, tired, ill, or even wearing a mask. Their range is so wide that sometimes alone smiles are enough to convey whatever you want.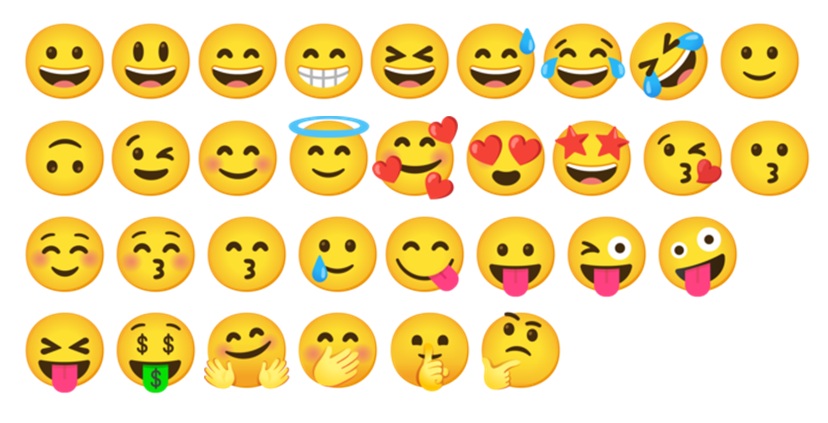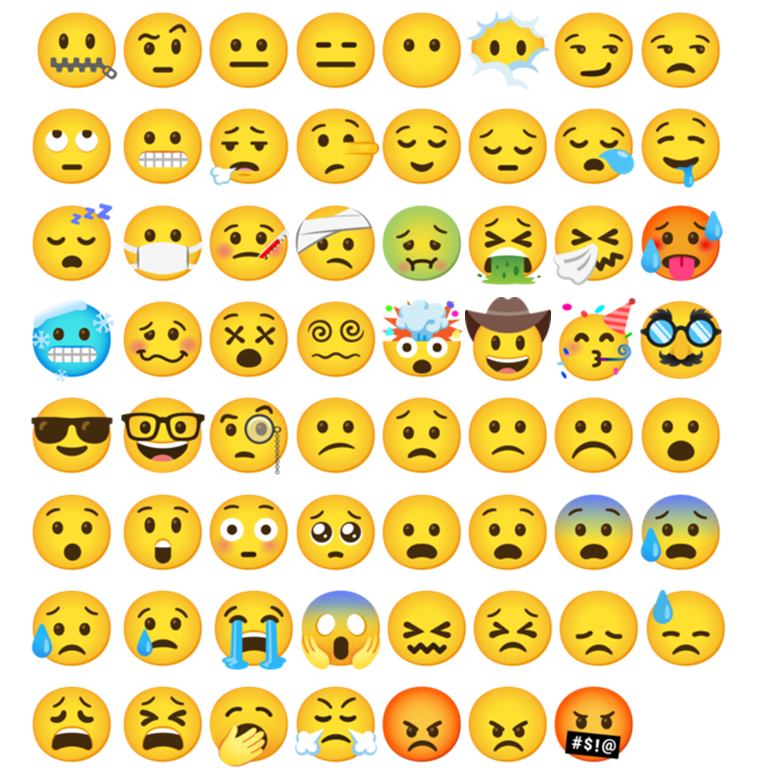 2. Animal Faced Emojis:
Then comes a list of Animal emojis that are there Android doing quite multiple things. Their designs have creative dissimilarities, unlike smileys that are almost all the same in shape and color. Moreover, they are quite colorful and teasingly expressive that can add fun and drama to boring or expressionless conversations.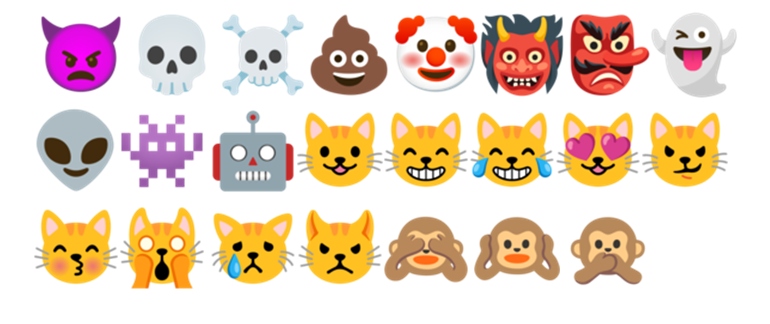 3. Heart Emojis:
One of the most loved and used emojis on Android is heart emojis. They are lovely, colorful which helps convey the things so easily words cannot say. From red to white and even black, they are available in almost all the basic colors. People used them to express love, gratitude, friendship, bonding, and much more.

4. Hand Emojis:
The emojis which make one of the longest lists on Android are hand emojis. They are available in so many postures and colors that they will recognize you, even hand talk half of our conversations. They can be seen clapping, shaking, waving, punching, pointing, slapping, and much more.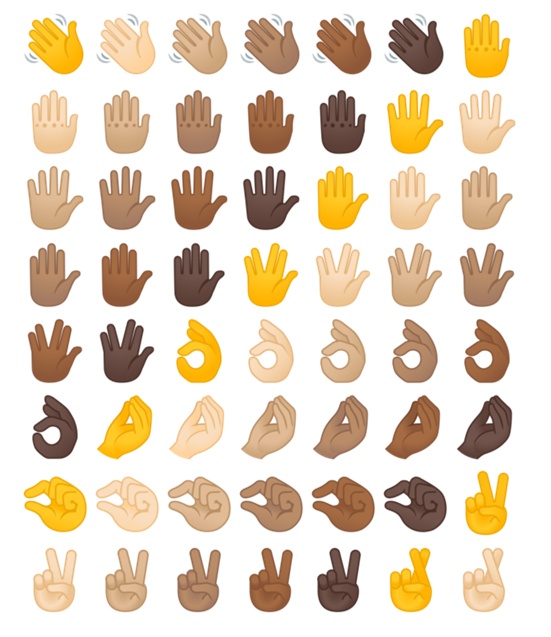 5. Body Parts Emoji:
As Emojis on Android leave nothing, there are body parts available as emoji as well. Available in multiple skin tones, they are few but cover almost all the important ones needed for a conversation. You can find emojis for nose, eyes, lips, arms, tongue, and even heart and brain on Android.

6. Face Emojis:
Another type of emojis that make the longest list on Android is face emojis. They cover such a wide range that they are available from kid face to even the old man/woman face. In addition to this, faces of all the ages that come in between the kid and old are available. Isn't it amazing? See for yourself.

7. Parenthood Emojis:
Android is so amazing in emojis creation that even the parenthood emojis are available. In a list of Parenthood emojis, you can see a woman being pregnant to mother and father feeding the baby. They are available in multiple colors.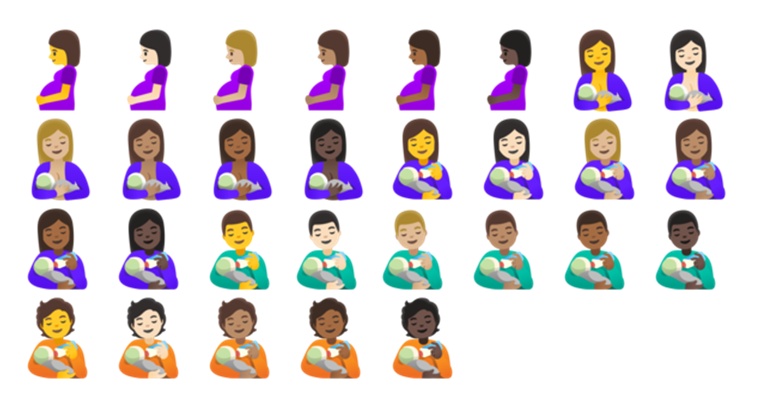 8. Bonding Emojis:
These emojis show people involved in different types of bondings as the emojis can be seen with a heart between two people or even family photos. Like other Android emojis, they are also available in a variety of skin tones and poses.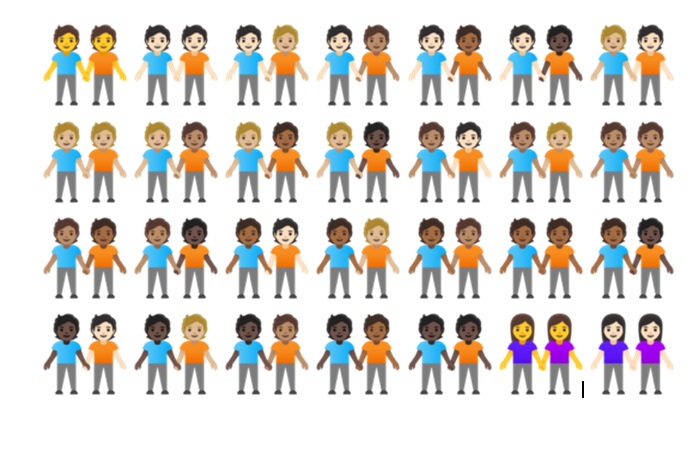 8. Animal Emojis:
There is a long-range of animal emojis that are there on Android. Even those animal emojis are available you can't name. I mean, of course, you don't know the names of all the animals unless you are a zoologist. Don't you believe me? See for yourself.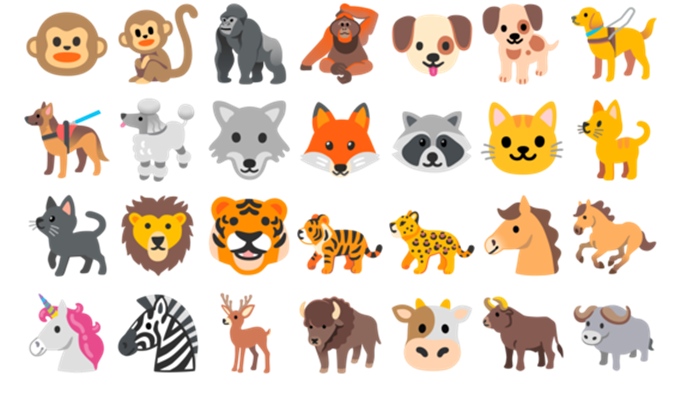 Conclusion:
The list of emojis available on Android is not yet finished here. I have just covered the important and most used ones to give you an introduction and idea. Although I have covered a lot, I can cover all but how will you explore yourself if I disclose everything. Reading this of course has brought you good exposure to the type of emojis that are there on Android. But don't limit yourself here. Go and enjoy the curiosity of discovering.
Also Read: Best Shoes for the People with Rheumatoid Arthritis