Wedding Guest Dresses: They always say brides' dresses set the tone for their weddings and play a key role in expressing who they are. We know it's true from watching every wedding rom-com with those shopping montages and eventual big dress reveals. But the happily marrying couple aren't the only ones whose wedding attire can make a statement about them. When you attend a wedding as a guest, your outfit says who you are as an attendee. Even though no one is watching you like they're fixating on the bride (it's not your day, of course) you still fall into a role as a friend and guest, and as such, you should wear a dress that suits the kind of guest you want to be.
Before you go picking your wedding guest dresses for all the spring and summer weddings you're invited to, take a minute to consider what type of wedding attendee you'll be at each ceremony.
The Dancing All Night Long Guest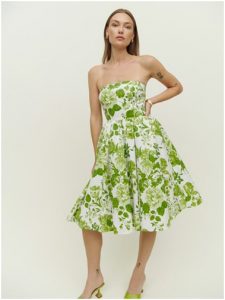 Weddings are great, and ceremonies are touching, but you're just there to dance. Okay, fine, maybe you're also equally as enamored with the ceremonial details, those routine ins and outs that somehow make weddings so special for their structure. You've oohed and ahhed at the bride's gorgeous gown and helped her adjust her veil for the pictures. You've shed your tears, you've celebrated the happy couple, you've made your toast, but now it's time to dance. You wore your dancing shoes especially for this part of the night. You'll be tearing up the dance floor in mint green.
Featuring Reformation's Buttercup Dress in Rialto.
The Aloof Guest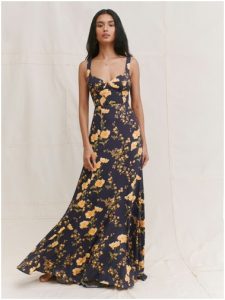 What is all this marriage stuff anyways? Weddings are notoriously over the top but you keep it chill and laid back in a simple silhouette. And why is everyone crying, anyways? No one will catch you sobbing at a wedding. You definitely weren't tearing up just now during the vows. You're immune to wedding romanticism rubbing off on you. That look on your face had nothing to do with the wedding. No one can prove it, anyways. Oh, what the heck, they're your best friends and they're getting married. Even you feel the feels.
Featuring Reformation's Lecce Dress in Bernadette.
The Prepared Friend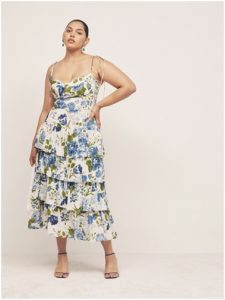 You're in a dress that moves and shoes you can dart in because you're ready to be at the bride's side in an instant. You're like the maid of honor's maid of honor because you've brought all the last minute touches anyone in the bridal party could possibly need in an emergency. You wore your big purse and it's stocked. You're hustling and bustling before the ceremony and during the photos, but you find a few moments to relax and enjoy watching your friends say I do. Once the happy couple has been announced and are sitting at the reception table, you finally settle in and enjoy the wedding cake. You're a good friend.
Featuring Reformation's  in Lucca.
The Sentimental Guest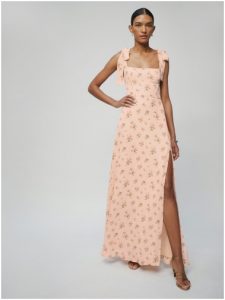 Weddings are just so beautiful and magical and romantic. You've brought tissues because you knew you'd start tearing up once the band started to play, and your eyes have been glistening ever since. Everything from the bride's dress to the color palette to the stunning view behind the arbor to the couple's photos on the tables—you'll be saving it all to your Pinterest board later. Nothing is as touching as love, and you see it all around. You couldn't be happier than when celebrating the love between your friends and sharing in their big day. You're wearing the softest, dreamiest dress that captures the essence of your sweet and caring spirit. Bring on the romance!
Featuring Reformation's Westerly Dress in Audrey.
The Photographer Friend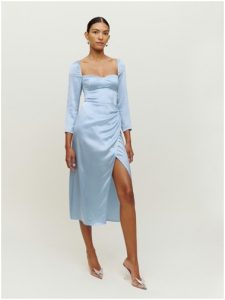 You may not have been officially hired to be the wedding photographer, but the married-couple-to-be know all about your skill behind a lens and elected you the unofficial photo snapper. You're there to get all the candids on artistically grainy film. You're slipping in and out of friend groups and social circles to capture the behind the scenes footage. Your focus is as much on the guests and the venue and the happy smiles as on the bride and groom. You want to record all the moments and expressions they're too busy to see on their big day. They'll love looking back on them later. You're in something flowy and lightweight, perfect for slipping around the party. Click.
Featuring Reformation's Gloriana Silk Dress in Horizon.
Weddings are all about the happy couple, but they chose for you to be there to celebrate with them for a reason. Although it's not your day, there's no harm in wanting to look great in a dress that showcases the type of guest you are. Every ceremony needs to have all the different types of friends and their feelings about weddings, so wear that dress and step into your role. We all know you have that place in you that loves weddings, no matter what you say. Dressing up is fun. Go find the best dresses.
can we change this dress to something more wedding like (fancier)
Done.