When it comes to choosing the right shoes to wear with a summer dress, Womens Platform Heels never fail to disappoint. The 70s retro trend has blown up on the runway with designers from the likes of Moschino and Versace showcasing sky high platform heels. Not only are platforms one of the hottest shoe styles to wear for summer 2022, they're one of the most comfortable high heel styles. No matter the occasion, platforms teamed with a summer dress is a top look. There are a huge variety of platform shoes available on the market, continue reading to discover which ones are best styled with a summer dress.
Platform Heel Mules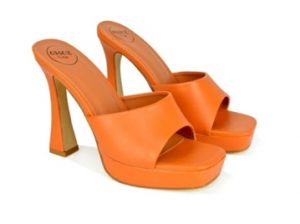 XY London Anita Square Toe Slip on Sandal Womens Platform Heels in Orange Synthetic Leather
Womens Platform Heels in a mule style is without a doubt one of the hottest ways to style a summer dress. Choose Orange to be bang on trend for summer 2022, according to market research shops have seen a rise in sales for both orange and green. When choosing the right heeled mules it's important to go for platforms because they will make the heels feel lower than they appear, this will make the mules easy to walk in. To create a timeless look – style orange platform heel mules with a yellow and green ditsy floral print dress, complete with an orange chain strap shoulder bag. This outfit is ideal for brunching with the girls or a spot of day drinking.
Lace Up Womens Platform Heels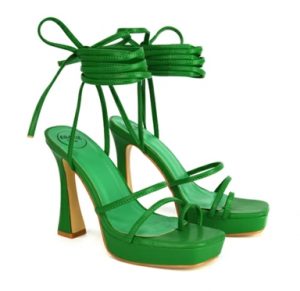 XY London Melrose Toe Post Lace Up Straps Square Toe Platform High Heel in Green Synthetic Leather
To create a look that will get you remembered, green Heels With Platform is a must for 2022. These heels are guaranteed to transform your summer dress, lace up details have been a big look on the runway with designers going crazy for gladiator sandals. The combination of trending flared heels and barely there laces, tied all the way up the leg will give the most simple summer dress an edgy look. Style your green lace up heels with a satin leopard print wrap dress and tiny green clutch bag, a look that's perfect for date night at your favourite restaurant.
Chunky Platform Heels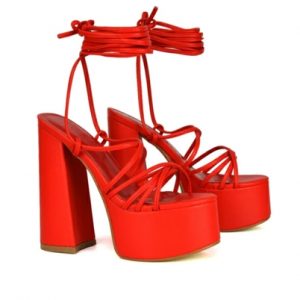 XY London Estelle Lace Up Chunky Sole Block Strappy Heels with Platform in Red Synthetic Leather
 Chunky soles and platforms are a major top trend for 2022, some of the most extreme styles have been strutted across the runways. Be inspired by groovy 70s fashion with sky high Womens Platform Heels and block heels, just remember if the platform is high there's no need to panic about comfort. Edit the sass level with the strappy lace up feature, you could even tie the straps around the ankle for the wedding and adjust further up the leg for the evening celebrations. Choose an electric blue silky patterned midi summer dress, team with a pair of red chunky platform heels and red Jewelled drawstring bag – a look that's perfect for a special occasion.
Peep Toe Heels With Platform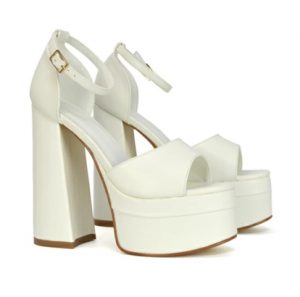 XY London Elma Peep Toe Strappy Block High Heel Platform Sandals in White Synthetic Leather
If you're not one for barely there strap styles where your toes are on full display, then peep toe Heels With Platform are the way to go as they offer more coverage. Nothing beats a floral patterned summer dress styled with chunky platforms, and if you want to keep it feminine peep toes are the perfect choice. Choose a bright orange floral short ditsy dress, style with peep toe platforms, and finish with a chain strap pouch bag – the ideal look for a bottomless brunch with your BFFLs. If you're looking for a dressy style of heels to wear with a summer dress this shoe style Is the perfect fit, not only are they a top trend for summer 2022 but they're a comfy heels choice.
Stiletto Platform Heels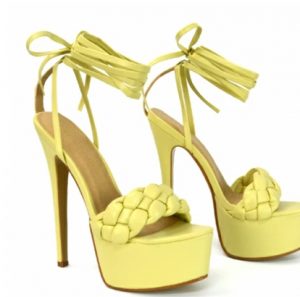 XY London Yris Woven Strap Lace Up Platform Stiletto Heel in Yellow Synthetic Leather
If you're a lady who doesn't feel dressed up unless you're wearing a pair of sky high heels, then XY London stiletto Heels With Platform are the only way to style a summer dress. Luckily for you, if you are a fan of stiletto heels this happens to be a top trend for Summer 2022. A woven front strap with lace up details are a huge summer vibe, pair this with a linen shirt dress and you're onto a winning look – this outfit is ideal if you're going out for a chilled dinner and drinks.