With fashion trends that change with every season and sometimes even multiple times within one season, it can be hard to keep up with all the constant changes. You don't need to do a full wardrobe refresh to stay trendy. Instead, there are creative ways to refresh your current wardrobe with cute clothes for women while adding statement pieces and wardrobe staples. Whether it's the change of a season or you feel like it's just the perfect time to revamp your wardrobe, you'll love our ten tips for styling your clothes.
1. Mix and Match —
Breathe a new life into your wardrobe by mixing and matching different pieces together. They could be a mix of pieces you already have in your closet mixed with some new ones that are trendy for this season. By combining wardrobe staples like neutral-toned tops and bottoms with unique pieces, you'll create fresh and unexpected looks. That oversized shirt you haven't worn in a few months? Try wearing it like a lightweight jacket or shirt jacket.
2. Accessorize Thoughtfully —
Transform your look in an instant by accessorizing thoughtfully and creatively. You can elevate a simple outfit by adding statement jewelry or a patterned scarf. Add a silhouette to an outfit with a belt, or do something different with your hair by adding on a headband or hat.
3. Add a Belt —
With oversized cute blouses, you can add a flattering silhouette by cinching them with a belt. Play around with different silhouettes to see which look flatters you the most. The simple belt accessory adds a modern twist to any look. Try it on dresses, tunics, or any oversized shirts in your wardrobe.
4. Layer Up —
During the colder weather months, what better way to make the most of your wardrobe than by layering with different pieces? You can combine sweaters with your favorite tops to add a different dimension to your looks. Play around with shorter and longer pieces to add an interesting dimension to your outfit.
5. Get Crafty with DIYs —
If you're a crafty person, try your hand at DIY embellishments. There are plenty of ways you can update old clothing with details like studs, patches, and embroidery to refresh and restyle them. According to Marie Claire, try taking a pair of jeans shorts and adding patches to them or sewing on lace to your socks. Customize your clothes with fabric paint by changing the color or drawing on a pattern to make your clothing truly yours.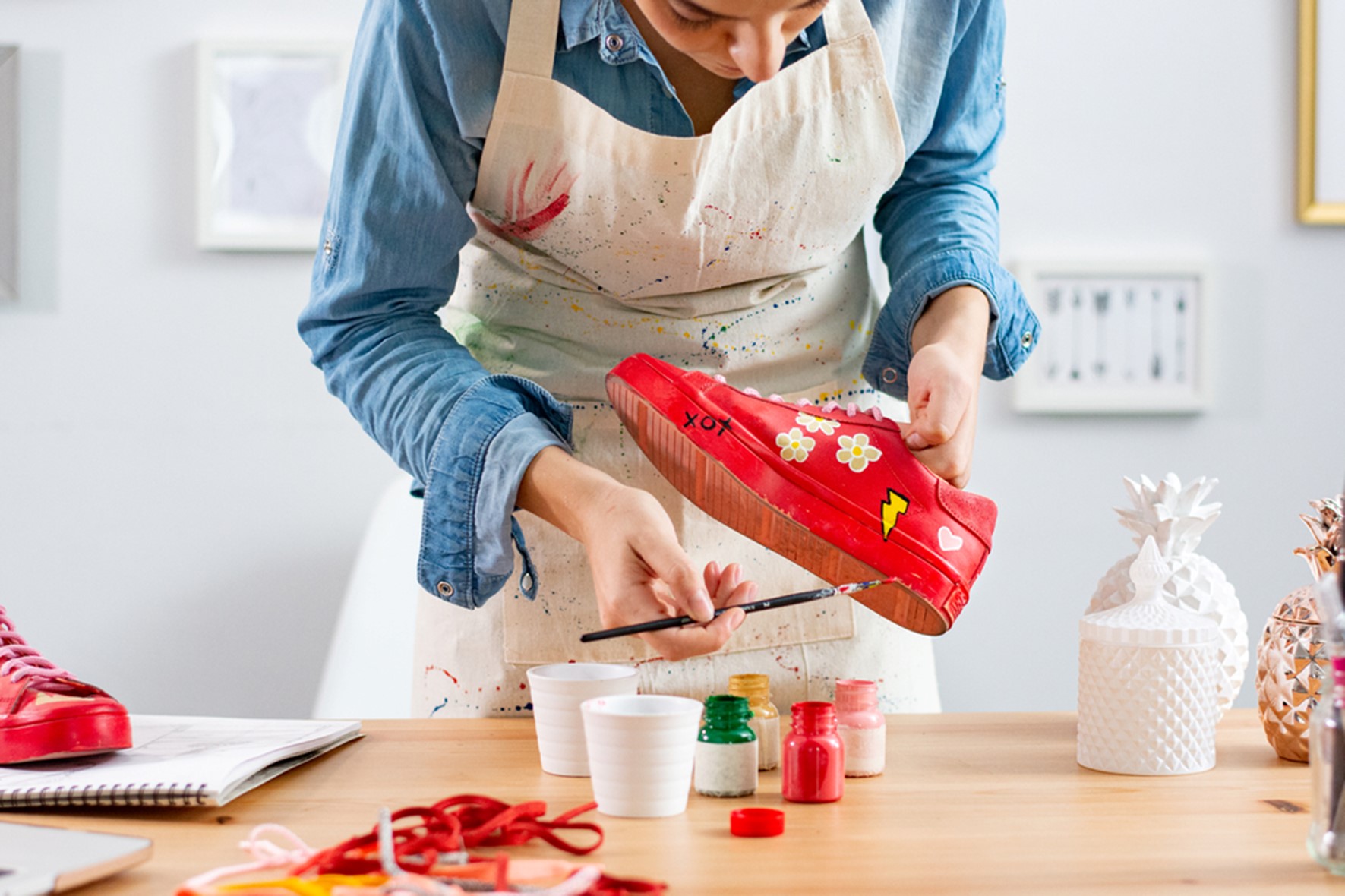 6. Go to the Tailor —
Sometimes the clothing we get online or even in the store just doesn't fit quite right. To transform any piece to fit your unique body type and shape, go to a professional tailor. If you're adept with sewing, you can even try hemming pieces yourself. Play around with the hem with all of your different types of dresses to see if you can turn that maxi dress into a midi or mini. Changing the hem of your pants or skirts to the perfect length for your height or even taking in the side of a blouse can make a huge difference in the way your clothing looks and feels.
7. Statement Shoes —
Shoes can make or break any outfit. Take a look at cute women's shoes to find your next statement shoes. To instantly jazz up any look, put on a pair of bright-colored or patterned shoes. It'll refresh that t-shirt and jeans combo you've worn a zillion times.
8. Knot It Up or Tuck It In —
Create a flattering look with an oversized shirt by taking the ends of your shirt and twisting them into a knot for a casual vibe. Oversized shirts can also be tucked in bottoms to have that polished tucked-in look.
9. Tie Dye —
Add a little fun and flair to any old white tops or bottoms by tie-dyeing your clothing. Experiment with bleach and other fabric dyes to transform old clothing into a trendy tie-dye masterpiece. Clothing that once was stained or faded can be given a new life by dyeing it a different color.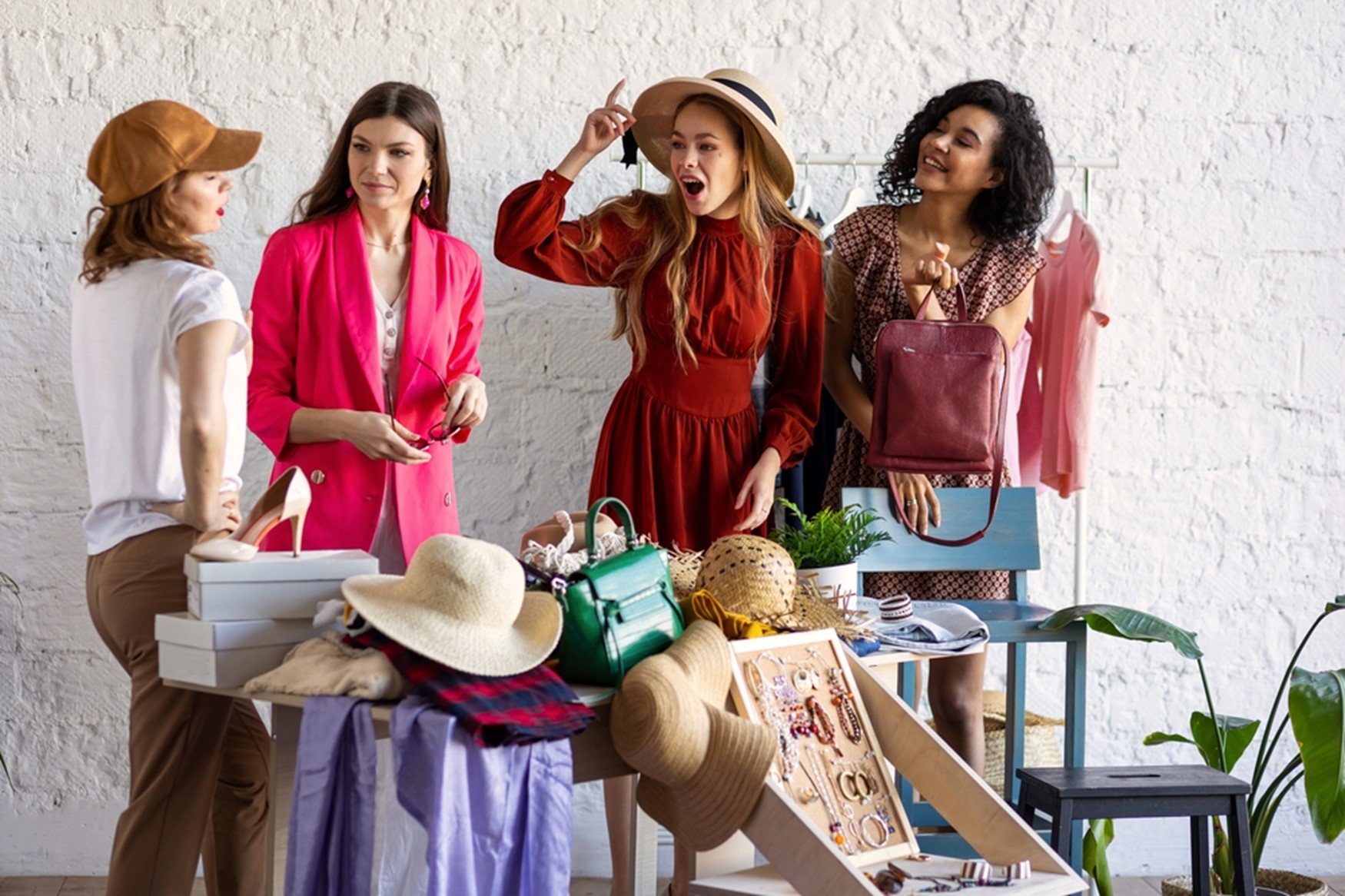 10. Host a Clothing Swap —
Clothes you no longer love can spark joy for someone else. Host a swap party with friends and family by exchanging clothes you no longer wear. You can give your wardrobe a breath of fresh style without having to spend any money. Have your guests bring tops, bottoms, and accessories that are all gently loved or never worn before, and you'd be surprised at how many pieces you and others own that can be traded at your party!
Restyling your wardrobe can help give a new look to old outfits and add a fresh twist to your everyday looks. There are plenty of options for cute clothes for women that are trendy now yet can take your wardrobe through all the seasons to come. By taking any of these ten creative tips, you'll be able to showcase your unique style while practicing fashionable sustainability.