Hi, I hope you are having a good day! The rosewater cleanser is a type of facial cleanser made with rosewater, a fragrant liquid extracted from rose petals. Rosewater is a natural astringent and toner, which means it can help remove excess oil and dirt from the skin, tighten pores, and balance the skin's pH. Rosewater cleanser is also often gentle enough for sensitive skin.
Rosewater cleanser is a great way to cleanse and refresh your skin without stripping it of its natural oils. It is a gentle and effective cleanser perfect for people with all skin types, including sensitive skin. For further information, please follow us along the end of the article.
A true Proust madeleine of beauty, the rosewater cleanser is making a strong comeback in our bathrooms as it is soothing, toning, and astringent.
An expert reveals its virtues for the skin and gives us her advice on how to choose and apply it.
Benefits of rose water cleanser for face and skin
A rose petal not only helps in the treatment of the skin, but we can also use it to make perfumes, medicines and candies due to its aroma.
Rosewater cleanser is very beneficial for those suffering from athlete's foot. Spray rose water on the affected area to heal it.
People with itchy skin can benefit from rose water. Its application to the affected area soothes the itching.
For women, it acts as a remedy against ageing. It promotes the regeneration of the skin.
You can make use of it on the face, to prevent the development of wrinkles.
Spray rose water on your hair for shiny, non-oily hair.
Use rose water to get rid of fungus and dandruff.
Apply rose water to heal the sores. You can also use it to alleviate sunburns.
Rosewater is a good remedy for acne and pimple breakouts. Cleanse your face with a gentle cleanser.
Apply rose water three times a day to get rid of acne once and for all.
Rosewater has a pleasant smell; therefore, it is suitable for making sprays and perfumes.
Rosewater also acts as a moisturizer. Apply all of it on your face and body after your bath.
Recipes for Rosewater cleanser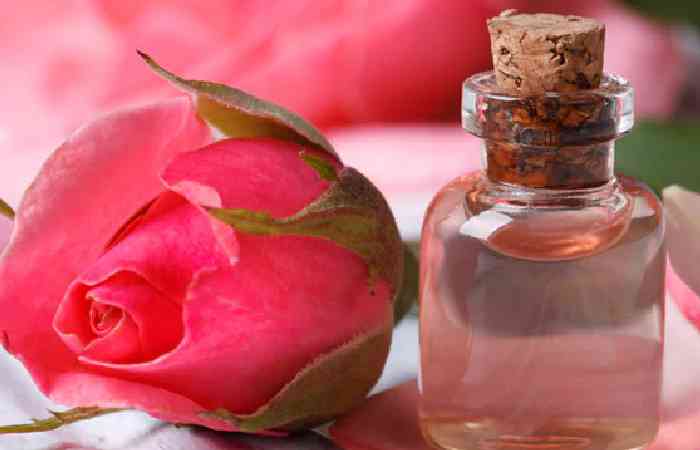 1. Rosewater cleanser
Cleaning the skin is crucial to taking care of our faces. Cleansing with rose water can be very beneficial for people with dry skin.
To achieve good results, do this daily. Use a good moisturizer or toner after cleansing.
Instructions:
Just soak a small piece of cotton wool in rose water.
Wipe your face and around your neck.
It will give you soft skin with a fantastic smell.
2. Aloe vera and Rosewater cleanser
Rosewater is very beneficial for all skin types. It helps soothe the skin, calm irritation, balance the PH and also cleanse oily skin.
Rosewater is an excellent product for toning the skin. It gives a beautiful glow and healthy skin.
With this recipe, prepare your rose water for your skincare.
Instructions:
Prefer the petals you want to use to extract the rose water.
Please place them in a large saucepan and put about 1.5 litres of water.
Let the water and petals boil for at least 10-15 minutes, stirring continuously.
Add some aloe vera gel and let the petals begin to lighten, which shows that the rose water is leaving them.
After the water has boiled and the colour of the petals used has changed, take them and squeeze them to extract any remaining moisture.
Let the water cool before applying it to the skin. We can store this water for about a month in the refrigerator.
Make sure to store up your rose water in an opaque container for proper preservation.
3. Rosewater cleanser for acne
Acne is a state that can affect anyone in their lifetime. The development of pimples and spots characterizes it.
Sometimes the skin becomes irritated and painful to the touch. The areas that are commonly affected by acne are the face.
Rosewater is an exceptional remedy for acne, and it is most effective when used with lemon juice and glycerin.
It contains phenyl ethanol which helps fight bacteria that cause acne.
When united with lemon juice and glycerin, it stops the growth of acne while leaving your face smooth and shiny.
Rose oil is essential for treating the redness that occurs on the face if caused by overwork.
Apply rose water to your face, and the results will be splendid.
While rosewater cleanser is an excellent remedy for acne, I do not recommend for rosacea. Rose oils will only complicate the disease.
Rosacea is a skin state that appears on the face where the blood vessels dilate considerably.
So only use rose water for acne-prone skin without rosacea.
4. Rosewater cleanser for skin lightening
Can rose water be used for skin lightening? Several people have used it, and say the answer is yes. Here's how to do it.
Ingredients:
1g of flour or sandalwood
2g of rose water
Instructions:
Add flour or sandalwood to rosewater.
Use the above ingredients to make a skin lightening face mask.
Put rose water in a bottle and use it on your face for a brighter complexion and toned skin.
Mix rose water with products like lemon, honey, and glycerin for glowing skin.
This remedy gives you the profit of natural products without making your skin oily.
5. The pink clay rosewater cleanser
Ingredients:
Three tablespoons of pink clay
Two tablespoons of Damask Rose hydrosol
One teaspoon of Rosehip Oil
Instructions:
Use immediately by applying the mixture evenly to the face and avoiding the eye area.
Put down on for 8 to 10 minutes then remove the excess with a cotton ball soaked in the rose hydrosol.
Tip: Add a little hydrosol or clay to the preparation to adjust the consistency according to your needs.
6. Face Lotion for Dry Skin
Ingredients:
Four tablespoons of Rose Hydrosol
Four tablespoons of orange blossom hydrosol
1/2 teaspoon of honey
Three drops of lemon balm essential oil
Two tablespoons of alcohol (at 70 °)
Instructions:
Heat the two hydrosols slightly in a saucepan before adding the honey. Remove the pot from the stove.
Dissolve lemon balm essential oil in alcohol and add everything to the water-honey mixture.
Pour into a bottle, close and shake. Put a little lotion on a cotton pad to purify the skin morning and evening after cleansing it.
How to properly apply rosewater cleanser?
Rosewater cleanser is multifunctional; we can use rose water in a refreshing spray version on the face.
It is possible to apply it as a tonic by light pressure on the face, with the fingers or soaked cotton.
It is the best way to take full advantage of its benefits. We can also decline it by make-up remover, cleansing
gel, cream, serum.
But one loses a little of its assets. These are products already formulated. Therefore the floral rosewater cleanser is a product with other compounds.
How to choose the right rosewater cleanser?
According to our expert, three criteria are essential to choosing the right rosewater cleanser: It must be 100% pure, without any other raw material.
It must not be denatured, coloured or rectified after distillation. Finally, prefer an organic rosewater cleanser.
Since it does not contain any preservative, we should consume it relatively quickly (within 3 to 4 months) and we should store it in the fridge.
We make the highest quality rose floral water cleanser from Rose from Damascus, Morocco or Bulgaria.
We can also choose them for their sweet and fresh fragrance. For example, we cultivate the Damascus rose for its fragrant flowers, widely used in perfumery.
Top Five Brands of Rosewater Cleanser
Fabindia Rose Facial Cleanser
Dabur Gulabari Rose Water
KAMA Ayurveda Pure Rosewater
Oriflame Pure Nature Rose Extracts Refreshing Rose Water
Nature's co Rose Hydrating Facial Mist.